Florida Realtors economist: Most Fla. home sellers accepted offers at or above their asking price – and 1 in 5 (20%) Fla. sellers get at least 5% more.
ORLANDO, Fla – Homes are a hot commodity. For homeowners that decide to list, the lack of supply is working in their favor, and many accept offers of their asking price or more.
In the past year – since April 2021 – the median percent of original list price received for Florida single-family homes was 100%. The median represents the halfway point: Half of the homes sold received at least 100% of their list price, while the remainder received 100% or less.
More than 50% of sellers have been getting their list price or higher recently, but that percentage has risen over the past few months. In April 2022, it was up to 67%.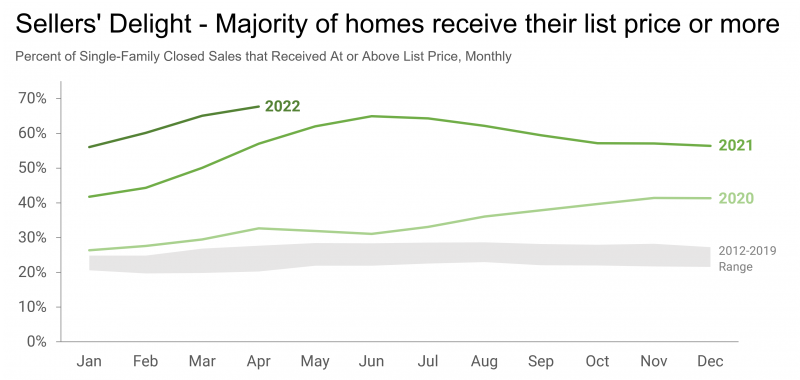 It may seem like the norm now, but the number of sellers who receive at least their asking price has grown significantly since the start of the pandemic. Between 2012-2019, typically 20-28% of sold homes received their list price or more. Today, that figure has more than doubled.
Even compared to last year's figure of 57% in April 2021, we have a 10-percentage point difference.
For some sellers, it isn't a couple hundred or thousand over asking – the gain can be quite significant. Roughly 20% accepted an offer 5% above the list price. On a home listed for $400,000, that's an additional $20,000!
Higher interest rates and inflation are shifting demand. Although we don't anticipate sellers leaving the driver's seat any time soon, they may need to adjust their expectations.
Realtors® understand their local market area and can create a comparative market analysis (CMA) to help a seller determine an appropriate list price for their home. Although over asking will likely put a smile on your client's face, be sure to understand their other goals with the home sale, such as timing, to best serve their needs.
Erica Plemmons is an economist and Director of Housing Statistics
© 2022 Florida Realtors®
Go to Source
Author: kerrys