A real estate leader and role model who knew how to "light up a room," the former Florida Realtors president and NAR president died Aug. 4, shy of his 92nd birthday.
NAPLES, Fla. – John R. Wood knew how to "light up a room." 
He used humor (corny and clean jokes) and smarts (a law degree and a down-home Arkansan sense of post-Depression resourcefulness) to build a business and lifelong relationships. It was this enviable combination plus a genuine desire to help people succeed that drew people to him.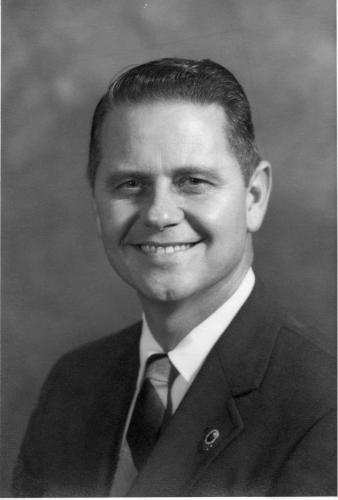 Wood founded John R. Wood Properties in 1958, the oldest active real estate brokerage in Southwest Florida. He died Aug. 4, 2021, just six weeks shy of his 92nd birthday.  
As the 1981 National Association of Realtors® (NAR) president, Wood led NAR's persuasive "Unlock the Economy" campaign to promote affordable homeownership as a key to ending the recession when mortgage interest rates peaked above 18%. Existing-home sales had plummeted by 50% since 1978. 
He called the White House and Congress to task at several high-level meetings in Washington. "In recent times, the commitment to a national housing goal has begun to disappear," Wood told the Senate Committee on Banking, Housing and Urban Affairs in May 1981. "If this anti-housing trend should continue, our children will be unable to afford homeownership, and the right to private property will be limited to the rich."
With Wood at the helm, "we were energized," says Bill Watson, Jr., Watson Realty Corp. founder and chairman of the board. "We were active in Washington. And when NAR had legislative days, we worked the 'waterfront' trying to get some relief for homeowners," Watson says. "We couldn't have a better spokesperson. John was a charmer. Everybody liked him – that was a huge advantage."
Watson, Florida Realtors® president in 1981 and Florida Realtors Spirit of Advocacy award winner in 2021, met Wood in 1968 when they took GRI classes over three years. Wood was appointed dean of the class. "He'd open up with two or three jokes and then get his message across … whatever it took to get things moving along."
They remained good friends. "Over the years, he asked me many times: 'Is there anything I can do for you?' He knew how to make you feel good, which made you want to do good. He had the ability with his smile to neutralize adverse situations," Watson says.
As president of Florida Realtors in 1971, Wood rallied support for state Realtor initiatives. Countless times during Realtor events, he'd be cracking jokes to get the crowd's attention and then get to the point, whether it was to support legislative efforts or continued education. 
Ask just about anyone in the Realtor family and they'll say the same as they remember what made him tick.
Cathy Whatley, 1996 Florida Realtors president and 2003 NAR president, remembers him when she was a teen. "My dad Jim Buck (Florida Realtors president in 1962) and John were very good friends and great joke tellers. You could be in a room and it was a comedy team trade-off. They were engaging and really funny, and they knew how to get things done."
"When I ran for NAR president, John did everything to give me counsel, and every year he would call me and talk about business. But he'd also go on about his gardens that he and his wife Wanda tended and his tennis game. He was bigger than life, gracious and genuine, and that was in everything he did. He was hard not to love."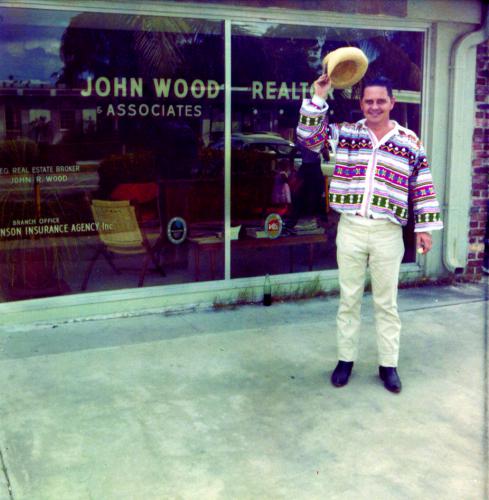 Wood was a resourceful guy who liked to watch things grow, whether it was nurturing his organic vegetable garden and tropical fruit orchard or mentoring young, energetic agents on his real estate team. 
He opened the firm in 1958, scraping together $200 monthly to pay the rent for his storefront office by subleasing desk space to other local business people. He mainly sold undeveloped land at the time. Investors were wary of buying swampland that couldn't be developed, so John created his own memorable slogan: "Walk on it before you buy," which he painted on the side of the Jeep he used to drive prospects around. Wood built his real estate firm's reputation on honesty and integrity, to become the largest brokerage in Southwest Florida with more than 650 agents and employees in 19 offices in Lee and Collier counties, racking up $3.8 billion in closed sales volume from Jan. 1, 2021 to Aug. 31, 2021. 
Along with achieving the highest-ranking positions at Florida Realtors and NAR, Wood was active in his local Realtor association board, serving two years as president, and as chairman of the Florida Real Estate Commission (FREC). Within NAR, he was a regional vice president for the Southeast and a member or chairman of more than a dozen association committees.
He also is fondly remembered as a philanthropist and fundraiser, advocating for many community groups, such as St. Matthew's House, United Way, the Greater Naples Chamber of Commerce, Collier County Junior Deputies and the Boy Scouts.  
"He was a role model to a lot of different people. Not so much for how to sell real estate, but just for how to lead your life," his son Phil Wood, current president and CEO of John R. Wood Properties, said in a recent tribute to his dad. Phil Wood joined his father in the real estate business in 1977 after graduating from college with a business degree.  
Jeff Zipper, senior vice president of Communications & Marketing at Florida Realtors, met Wood when he was new to the state association management team. "He took me under his wing, too," Zipper says. "Every once in a while, someone breaks through everything and allows you to see what one person can do. John was truly a leader. It was always a better day when he was around."
Wood will be fondly remembered and always admired. "He was born to lead," Whatley says. "In his community, in his church and in the Realtor family, people just knew this man was going to make a difference in many lives in many ways."
John R. Wood is predeceased by his wife Wanda Ross Wood (1930-2017), and survived by his son Phil, granddaughters Corey McCloskey and Nikki Wood, and two great grandchildren, Hunter and Ryli. Donations in his memory can be made to St. Matthew's House or Collier County Junior Deputies.
© 2021 Florida Realtors®
Go to Source
Author: marlam