Florida Realtors economist: It will cost buyers more each month to pay a mortgage than rent – but that ignores the advantages and increased savings of ownership.
ORLANDO, Fla – Homebuyers who sign lending docs on the dotted line today may be factoring a higher monthly payment into their household spreadsheet than someone signing a lease. Despite a slower pace of median home price increases, a higher interest rate environment is pushing the monthly payment for a mortgage higher, surpassing the monthly asking rent in the third quarter of 2022.
This analysis looks at the entire south region of the United States instead of just Florida. We're comparing the monthly asking rent for an apartment as reported by the U.S. Census Bureau Housing Vacancy Survey to the monthly mortgage payment, as calculated using the median asking sale price from the same survey. We assumed a 20% down payment and used the quarterly interest rate to arrive at an estimated monthly payment.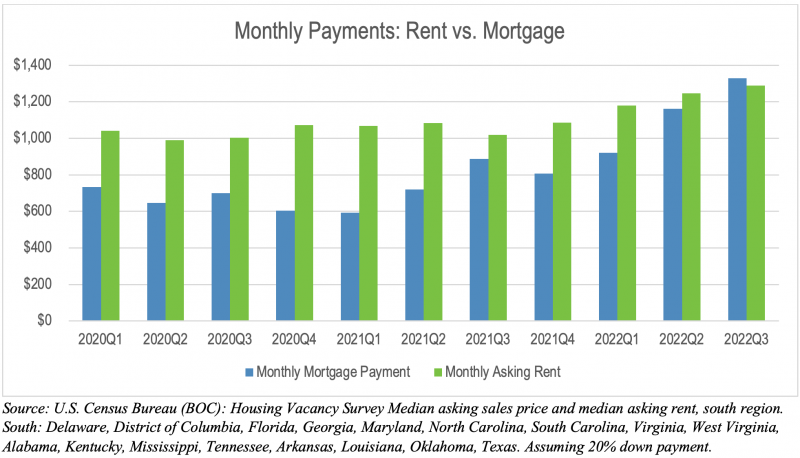 Monthly lease payments higher today due to interest rates
The median asking rent has increased 24% since the first quarter (Q1) of 2020, whereas mortgage payments have increased 81% since then. This change in payment says more about the interest rate environment than higher home sale prices, though that also played a role.
When interest rates were still low at the beginning of 2020, a median mortgage payment of $733 was well below the median asking rent of $1,042, making mortgage payments about 70% of the asking rent. Renting already was more expensive relative to ownership as demand for rental units remained high.
As interest rates lowered further and purchasing became more affordable, the cost to service a mortgage fell to around half (50%) the cost of a monthly lease by mid-2021. With rents already high, the ability for landlords to push rents was limited to a few percentage points at renewal. Demand for rentals softened somewhat as people were able to make purchases, but rents remained high despite this.
However, interest rates on a 30-year mortgage climbed steadily as the Fed rapidly pushed the fund rate up over the last year. Double digit quarter-over-quarter increases in the monthly payment were the norm starting in the middle of 2021, when home prices also started to peak.
The result: The ratio between rental and mortgage payments has shifted. Now the cost to service a mortgage is slightly above the typical asking rent.
This is one of the reasons why demand to buy is softening and why waiting on the sidelines in a rental is becoming somewhat preferable to making a purchase today. Mortgage applications for home purchases in 2022 fell steadily throughout 2022, with the number of applications falling to levels before 2018-2019. Other metrics that speak to demand including Days on Market and Percent of Original List are similarly indicating a cool down on the buy side.
Does this mean it's better to rent?
At face value, people may believe so if they focus only on the amount paid each month. You may come across clients who present this exact position when considering staying in a rental. Seeing these figures, you can understand where they're coming from.
But the decision to rent vs. buy isn't just an economic one – there are a lot of factors including responsibility to maintain a property, cash to handle unexpected expenses and of course, flexibility.
The thing to remember always is the value of appreciation over time, building equity and personal wealth, as well as the reality that rates can come down. If that happens, homeowners can refinance to lower their monthly payment. Rents rarely decline.
Encourage clients to remember the long-term upside of owning versus the short-term benefit of renting. For those who able to purchase, don't let current rates get them down.
Ownership provides price stability that renting does not
While it's certainly interesting to see the blue line representing the monthly payment a mortgage rise over the last few years, let's not forget that the asking rent was at or above $1000 per month the entire time, with the most recent rent nearing $1,300 a month (mortgage was $1,329). There's little to no relief in the rental market where asking rents continue to hold steady as strong demand keeps vacancies low. Local market factors in heavily when determining rents, including availability of units and overall inventory.
While renting has its purpose, remember that owning can offer a hedge against continued upward pressure on that all to important monthly number.
Jennifer Warner is an economist and Florida Realtors Director of Economic Development.
© 2023 Florida Realtors®
Go to Source
Author: kerrys