Florida Realtors economist: Why should I list now? Show them why graphically based on 1) different home needs, 2) low mortgage rates and 3) equity potential. In 2020, over one-third of Fla. single-family home sellers cashed out and received their list price or more.
ORLANDO, Fla. – Realtors® can help show sellers the money (and get their listing)! In 2020, one in three (34%) single-family home sellers received their original list price or higher. From 2015-2019, this was true for about one in four sellers (26%).
By month, a more striking trend emerges. In November and December last year, over 40% of sellers received their list price or higher.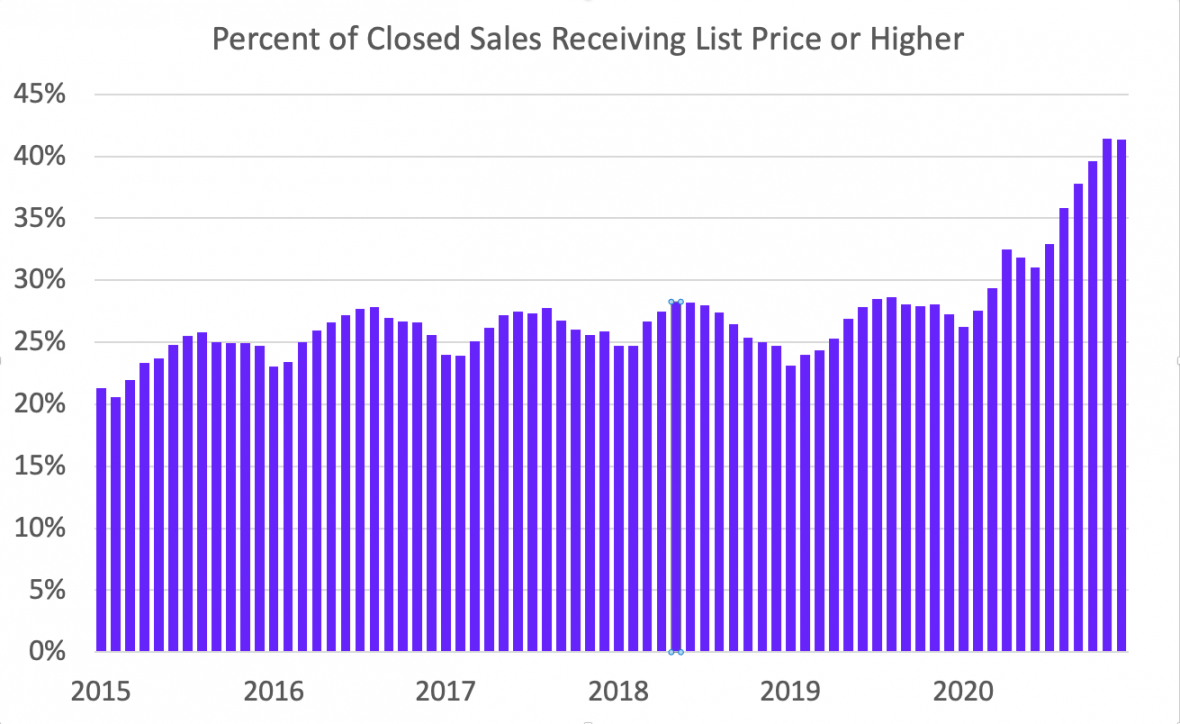 As buyers compete for a limited supply of homes, the pendulum swings farther in favor of sellers. The Florida single-family home market ended 2020 with 1.8 months' supply of inventory (MSI), meaning the amount of time it would take to deplete inventory at the current sales pace if no additional homes enter the market.
As a gauge, analysts tend to use 5-6 months as the benchmark for a balanced market, so it's clear sellers currently have the upper hand. Many sellers did list their properties in 2020, as new listings for single-family homes were down only 3% compared to 2019. But this was not enough to meet the strong demand once lockdowns lifted.
Demand varied by price tier but rose across the board. Nearly 50% of homes in the $150,000-$300,000 range closed with offers equal or greater than their list amount at the end of 2020.
While they may not be broadly accessible, luxury properties benefited from increased demand as well. In the past, homes listed for $1 million or more were less likely to receive an offer meeting or exceeding the list price – one in 10. In December, the number approached one in five (19%).
Although there are no price guarantees, sellers should be confident that they can cash-in on their equity. Today, homeowners – even those underwater in the late aughts – have gained equity from rising home prices. Many sellers get what they ask, but more aren't jumping into the market because selling is a double-edged sword. If they sell their home, will they have one to buy?
New home construction lags demand; and worse, building has not kept pace for the past decade. The tenure of homeowners persists at historic highs. Florida sellers report a median of 11 years in their residence, according to the latest Profile of Home Buyers and Sellers in Florida report.
There are limited options for both new and existing homes. As buyers, sellers will face obstacles, but there are factors in addition to equity for them to list now.
Interest rates hover at historic lows and sometimes hit new records. Looking ahead, the consensus among economists is slightly rising rates in 2021 to around 3% for a 30-year fixed-rate mortgage. Owners can achieve mortgage savings by refinancing. Yet for some, selling and purchasing a different home may be the wiser option.
The pandemic caused economic uncertainty yet spawned motivations to move. "Home" must function like a living space as it always has, as well as an office, school, recreation center and more. Progress continues with health guidelines and vaccinations, but remote work and other changes are likely here to stay. Owners who believe their residence falls short of their needs may consider upgrading.
Realtors can help bridge the gap. Reach out to past clients who purchased at higher rates but may have different requirements as "home" evolved in 2020. More existing home sellers can ease some of the inventory crunch, or at least contribute to the churn in the market. You can instill confidence in both sides of the transaction to move sellers off the sidelines.
Erica Plemmons is an economist and Director of Housing Statistics
© 2021 Florida Realtors®
Go to Source
Author: marlam