Florida Realtors economist: In today's market, prepare buyers to consider paying at least asking price – over half of successful Fla. transactions do. But it's not a simple question, and the pressure varies by property type and asking price.
ORLANDO, Fla. – In May 2021, 55% of Florida buyers paid the seller's asking price or higher in order to close the deal. That's a higher probability than the flip of a coin! It's good news for sellers and valuable information to help your buyers strategize what to offer.
Those in the single-family home market face the strongest competition. In March 2021, half of single-family homebuyers paid a price greater than or equal to the listing price, and in April, the number pushed higher to 57%. May's figure moved higher still to 62%.
Searching for a $250,000-$300,000 single-family home? Seventy percent of these buyers shelled out at least the list price last month.
Sellers in the middle of the pricing spectrum seem to be in a sweet spot. Homes ranging from $150,000 to $600,000 have a high success of earning their asking price.
Conversely, buyers face a predicament of what offer will bear fruit.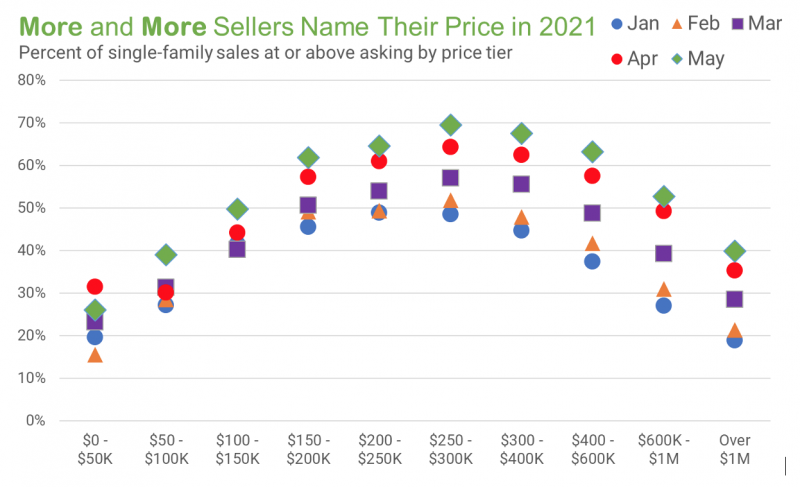 What about prices on the periphery? Historically, the upper end of the market tends to have more breathing room as demand is less robust compared to inventory available. But 2020 was unique, and post-initial-lockdown Florida had a surge of luxury buyers in the second half of the year. Closed single-family sales of $1 million or higher, generally considered luxury in most of the state, were up 51% in 2020 compared to 2019.
January and February 2021 had fewer $1 million-plus, single-family closed sales than December 2020 – but that's a typical trend due to seasonality in the marketplace. Then in March, $1 million-plus closings hit a record-high (Florida Realtors statistics begin in 2008), only to be surpassed the following month. In May, closed sales of $1 million or more fell slightly compared to March and April yet reached significantly beyond historical norms.
As the pace of sales intensified, luxury sellers gained an upper hand. Four-in-ten (40%) homes sold in May 2021 for $1 million or more received at least their list price.
On the opposite end, single-family homes under $150,000 were also less likely to garner an offer at or above their list price than homes in the middle. Perhaps a bit unintuitive, the proportion of sales in May at or above list price for homes priced less than $100,000 was lower than that of $1 million+ closings.
Although the lower-end homes are at a more affordable price point, they're likely older, smaller homes that could require extensive renovations. Investors and buyers may be less willing to budge on price or may hope for a discount, since they'll need to account for after-purchase expenses.
Townhomes and condos have a similar sweet spot akin to single-family homes. Those that sold between $150,000 and $600,000 had the highest rate of selling at or above their list price. The peak is lower: 51% of townhomes and condos between $250,000-$300,000 met this signpost in May 2021 compared to 70% of single-family homes.
Buyers searching for a manufactured or mobile home also need to consider their competition. The market is more compact, and in 2021, roughly 80% of manufactured/mobile homes sold between $50,000-$200,000. In this price range, 37% obtained a price equal to or above the seller's asking.
For non-single-family homebuyers, exceeding or offering the list price could help them stand out, as these offers aren't as commonplace.
Of course, offering above the asking price is just one tactic to win the home. Other buyer options include offering all cash, eliminating contingencies such as requiring the sale of a prior home or waiving inspections, or letting the seller dictate a closing that works for them.
Closed sales at or exceeding list price increased since the start of the year and may continue to climb as the spring and summer buying seasons heat up. Whether you engage with buyers, sellers, or both, information on successful closings will benefit your conversations about pricing.
Erica Plemmons is an economist and Florida Realtors Director of Housing Statistics
© 2021 Florida Realtors®
Go to Source
Author: kerrys