Property insurance costs aren't completely under human control. NOAA says 2023 has had 23 billion-dollar-plus disasters so far due to changes in the climate.
WASHINGTON – In the U.S., August 2023 was the ninth warmest on record, and a warm August wrapped up a sweltering Summer 2023 across the U.S., according to NOAA's National Centers for Environmental Information.
The nation has also been hit with 23 separate billion-dollar disasters so far this year, the largest number of billion-dollar disasters since records have been kept.
Climate by the numbers
The average temperature for August across the contiguous U.S. was 74.4 degrees F – 2.3 degrees above average – ranking as the ninth-warmest August in the 129-year record. Florida, Louisiana and Mississippi all sizzled through their hottest Augusts on record, while Texas saw its second-hottest August. Alaska, whose climate record goes back 99 years, had its third-warmest August on record.
The average precipitation for August in the contiguous U.S. was 2.74 inches (0.12 of an inch above average), ranking in the middle third of the climate record. Precipitation extremes varied across the Lower 48, with California and Nevada seeing their second-wettest August on record and eight additional states – Idaho, Maine, Missouri, New York, South Dakota, Tennessee, Vermont and Wyoming – having a top-10 wettest August.
On the flip side, Louisiana had its driest August on record, while Mississippi and Texas had an August that ranked among their top-10 driest.
Meteorological summer
For meteorological summer (June 1 through August 31), the average temperature for the contiguous U.S. was 73.0 degrees F – 1.6 degrees above average – ranking as the nation's 15th-hottest summer on record. Louisiana baked under its warmest summer on record, while Texas and Florida each saw their second-warmest summers. Mississippi, New Mexico, Oregon and Washington all saw their top-10 warmest summers on record.
The summer precipitation total across the contiguous U.S. was 8.35 inches – 0.03 of an inch above average – ranking in the middle third of the historical summer record. New Mexico and Louisiana each ranked third driest as Arizona, Minnesota, Texas and Wisconsin all had a top-10 driest summer. New Hampshire, Vermont and Wyoming ranked wettest on record, while Connecticut, Maine, Massachusetts, New York and Rhode Island ranked among their top-10 wettest summers.
Year to date (YTD), January through August 2023
The average U.S. temperature for the first eight months of 2023 was 55.6 degrees F – 1.8 degrees above the 20th-century average – ranking as the 13th-warmest such YTD in the climate record. Florida, Louisiana and Mississippi ranked warmest on record while Alabama, Delaware, Georgia, Maryland and Massachusetts each ranked second warmest for the January–August period.
The nation had 21.19 inches of precipitation for the YTD, 0.48 of an inch above average, ranking in the middle third of the January-August record. New Hampshire had its third-wettest such YTD on record, while Maryland saw its ninth driest.
Billion-dollar disasters
The U.S. has been struck with a record-breaking 23 separate weather and climate disasters – each with losses exceeding $1 billion – between January and August 2023. With approximately four months still left in the year, 2023 has already surpassed the previous record of 22 events seen in all of 2020.
The 23 events include:
18 severe weather events.

Two flooding events.

One tropical cyclone (Hurricane Idalia).

One wildfire event.

One winter storm event.
These events caused 253 direct and indirect fatalities and produced more than $57.6 billion in damages (Consumer Price Index (CPI)-adjusted). Other potential billion-dollar events from 2023 that are still under review include Tropical Storm Hilary that impacted southern California and the Southern/Midwestern drought.
Since 1980, when NOAA started tracking these events, the U.S. has sustained 371 separate weather and climate disasters where overall damages/costs reached or exceeded $1 billion (including CPI adjustment to 2023). The total cost of these 371 events exceeds $2.615 trillion.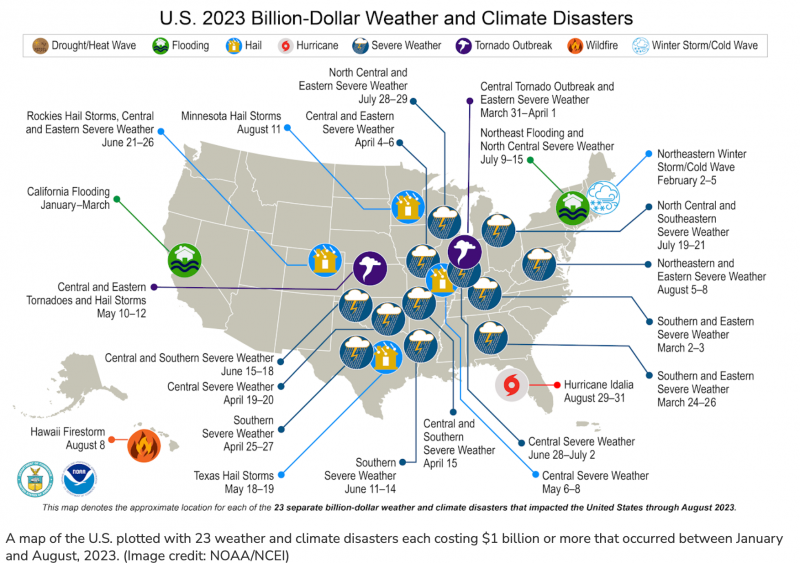 Other notable report highlights
Several notable tropical cyclones impacted the U.S. in August:
Aug. 8: Winds from Hurricane Dora exacerbated a wildfire on the island of Maui, Hawaii, making it the deadliest wildfire in the U.S. in over a century.

Aug. 18: The first-ever tropical storm watch was issued for southern California as remnants of Hurricane Hilary brought record-breaking rainfall and flooding to parts of the Southwest.

Aug. 22: Tropical Storm Harold brought strong winds and heavy rains to parts of the southern Plains.

Aug. 30: Hurricane Idalia made landfall in the Big Bend region of Florida as a Category 3 hurricane – the strongest hurricane to hit the region in more than 125 years.
Drought coverage increased nationally:
According to the August 29 U.S. Drought Monitor report, about 34.3% of the contiguous U.S. was in drought, up about 6.2% from the beginning of August. Moderate-to-exceptional drought was widespread across much of the Great Plains, while moderate-to-extreme drought covered the Northern Tier and Southwest. Drought conditions expanded or intensified along the Northern Tier, Upper Midwest, Southwest, southern Plains, Mid-Atlantic, Southeast and Hawaii last month. Drought coverage reduced in intensity across portions of the central Plains, Great Lakes, Ohio Valley, Northeast, Alaska and Puerto Rico.
Source: National Oceanic and Atmospheric Administration (NOAA)
© 2023 Florida Realtors®
Go to Source
Author: kerrys