Florida Realtors economist: In 1Q 2022, half of new Fla. listings went under contract in 12 days – but look beyond that one statistic to see the shift in market speed.
ORLANDO, Fla –Florida Realtors market metrics – such as closed sales, median sale price and active inventory – summarize what's happening in your market. But sometimes, one number can't present the entire story.
In the first quarter (1Q) of 2022, the median time to contract for all property types in Florida was down to just 12 days. The median is the "middle," so this means half of the homes sold in 12 days or less. This compares to 24 days one year ago, in 1Q 2021.
You can find out if homes in your local area are moving off of the market faster than the state by reviewing the median time to contract on SunStats, an interactive market tool – a free service as part of Florida Realtors membership.
The median provides a great starting point, but we can slice this data to reveal additional insights into the speed between listing and contract.
A cumulative frequency graph shows the percentage of properties selling under a certain number of days. For instance, if 2% of homes sell on the day they're listed (0 days), and 3% sell the next day, a total of 5% (or 1 in 20 homes) sold in one day or less.
At 50%, a cumulative frequency chart tells us the same thing as the median time to contract.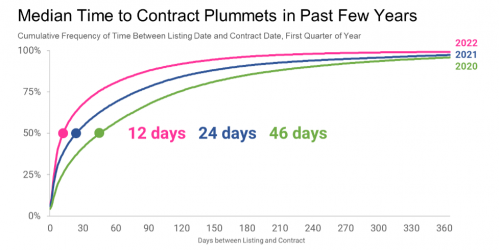 The bulge in the lines has shifted toward fewer days for a higher percentage of homes. How quickly are homes selling?
In Florida across all property types, 68% (2 in 3 homes) sold in under 30 days in the first quarter of 2022. One year earlier, in 1Q 2021, about 54% of homes sold in 30 days or less, while only 41% sold at that pace in 1Q 2020. We can zoom in to look at these details.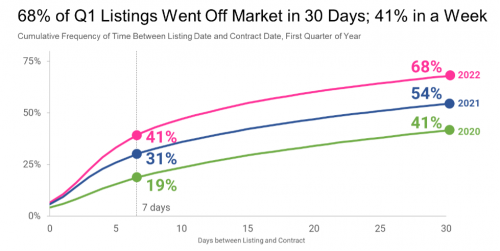 Recall that 41% of homes sold in 30 days just two years ago; now, in 1Q 2022, 41% of homes sold in a week or less!
You've likely experienced this market frenzy since the pandemic uncertainty eased. A home today serves more functions than it did in the past, so buyers who find one that suits their needs swoop it up quickly.
As interest rates rise, demand levels may moderate and push the curve back, however. We'll follow up with any notable changes in the data as the year progresses.
Erica Plemmons is an economist and Director of Housing Statistics
© 2022 Florida Realtors®
Go to Source
Author: kerrys