Prices didn't stop rising in 2022, increases just slowed. U.S. sellers averaged a $112K profit, up 21% – and eight of the top investment returns were in Fla. metros.
IRVINE, Calif. – According to Attom's end-of-year report, the typical sales profit percentage rose from 2021's 45% to 51% last year, even with values dropping in the second half of 2022. Overall, home values rose 10%.
Florida, however, led Attom's list for price gains after Hilo, Hawaii (100% return on investment or ROI); Lake Havasu City-Kingman, Arizona (88.4%); and Spokane, Washington (86.2%).
Florida metro areas' return on investment in 2022
Fort Myers (ROI up from 51% in 2021 to 85.4% in 2022)
Ocala (up from 49.7% to 82.4%)
Naples (up from 44.7% to 74.4%)
Port St. Lucie (up from 62.8% to 84.8%)
Miami (up from 42.9% of 64.1%).
Orlando (ROI up from 42.2% to 62.2%)
Tampa (up from 53.8% to 73.8%)
Jacksonville (up from 43.7% to 58.4%)
Attom found higher profits from 2021 to 2022 in 98% of housing markets with enough data to analyze – the highest level in the United States since at least 2008.
The $112,000 profit on a median-priced home sale in 2022 was a 51.4% ROI compared to the original purchase price, up from 44.6% in 2021 and 32.8% in 2020. The latest profit margin was also the highest since at least 2008.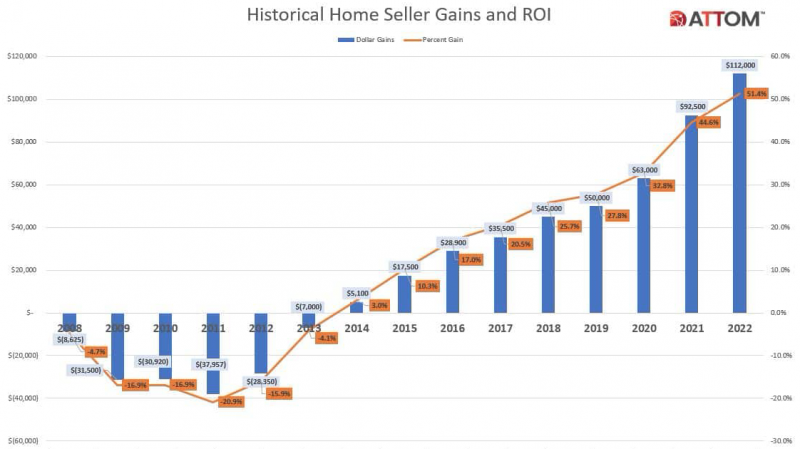 "It seems pretty likely that home seller profits peaked for this cycle in 2022," says Rick Sharga, executive vice president of market intelligence at Attom. "Median prices have declined on a monthly basis since mortgage rates doubled between January and October and are likely to decline further in many markets across the country in 2023, reducing profitability for home sellers."
Attom also found that all but two out of 157 metros saw 2021-2022 price increases, with an increase greater than 10% in 85 of those cities.
Florida metros again scored some of the highest numbers:
Naples (median up 26.9%)
Fort Myers (up 26.7%)
Lakeland (up 25.7%)
Port St. Lucie (up 24.6%)
Ocala (up 23.8%)
In a look at metro areas with a population of at least 1 million, Tampa came in first (up 21.9%), followed by Raleigh, North Carolina (up 17.9%); Austin, Texas (up 17.9%); Orlando (up 17.7%); and Tucson, Arizona (up 17.2%).
However, some U.S. metros saw a drop in 2022 ROI. Attom found the biggest drops in Salem, Oregon (ROI down from 82.7% to 43.1%); Atlanta (down from 43.9% to 36%); Boise, Idaho (down from 75.9% to 68.9%); Prescott, Arizona, (down from 82.7% to 75.9%) and Sacramento, California (down from 61% to 54.7%).
Home seller tenure near 10-year low
Home sellers who sold in the fourth quarter of 2022 had owned their homes an average of 5.85 years, a drop from 5.96 years in the previous quarter and from 6.05 years year-to-year. The latest figure represented the third-shortest average home-seller tenure since 2012.
Average seller tenures declined in three out of four U.S. metros (72%) of the 107 metro areas with a population of at least 200,000.
© 2023 Florida Realtors®
Go to Source
Author: kerrys