The August index from UF rose 4.1 points to 65.2. All five components in the larger index moved higher, with a notable rise in future expectations.
GAINESVILLE, Fla. – Floridians' consumer attitudes increased for a second month in a row. In August, the University of Florida's consumer sentiment index rose to 65.2, up 4.1 points from a revised figure of 61.1 in July – and all five components that make up the total index increased.
Current conditions
Floridians' perceptions of their personal financial situations now compared with a year ago increased 2.7 points from 52.5 to 55.2.
And attitudes about buying a major household item, such as an appliance, rose in tandem with that increase, also rose 2.7 points, from 52.5 to 55.2.
The boost in attitudes was almost universal among Floridians, though a bit less among lower-income (less than $50,000 per year) households.
Future expectations
Outlooks about expected economic conditions one year from now were also positive. Attitudes about personal finances increased 4 points from 75.1 to 79.1.
Expectations for U.S. economic conditions one year from now increased a notable 7.4 points from 58 to 65.4 – the highest increase in August. And attitudes about U.S. economic conditions over the next five years increased 3.8 points from 67.3 to 71.1.
"Most of the optimism stems from Floridian's expectations about future economic outlooks, particularly from expectations about the national economy over the next year," says Hector Sandoval, director of the Economic Analysis Program at UF's Bureau of Economic and Business Research. "These opinions are consistent with the strong labor market, along with falling energy prices, such as gasoline, and the overall slowdown in the pace of inflation from a four-decade high."
Sandoval says gas prices play an outsized role in attitudes because Floridians see them "every day while traveling to and from work, (and) gas prices in Florida have declined consistently since mid-June, not only improving Floridians' perception of the economy but also releasing pressure from their budgets."
The Florida labor market has continued to strengthen with more jobs being added statewide in July. Florida's unemployment rate ticked down by 0.1 percentage point in July, reaching 2.7% and matching the rate observed in February 2020, right before the pandemic hit. Moreover, newly filed unemployment claims have hovered around pre- pandemic levels.
Sandoval isn't sure if improving attitudes are a trend or not yet.
"Although consumer confidence has increased for two consecutive months, it's difficult to interpret this as an overall change … especially since the Fed will keep rising interest rate until there is evidence that inflation pressures and the economy are cooling, thus possibly pushing the economy into a recession."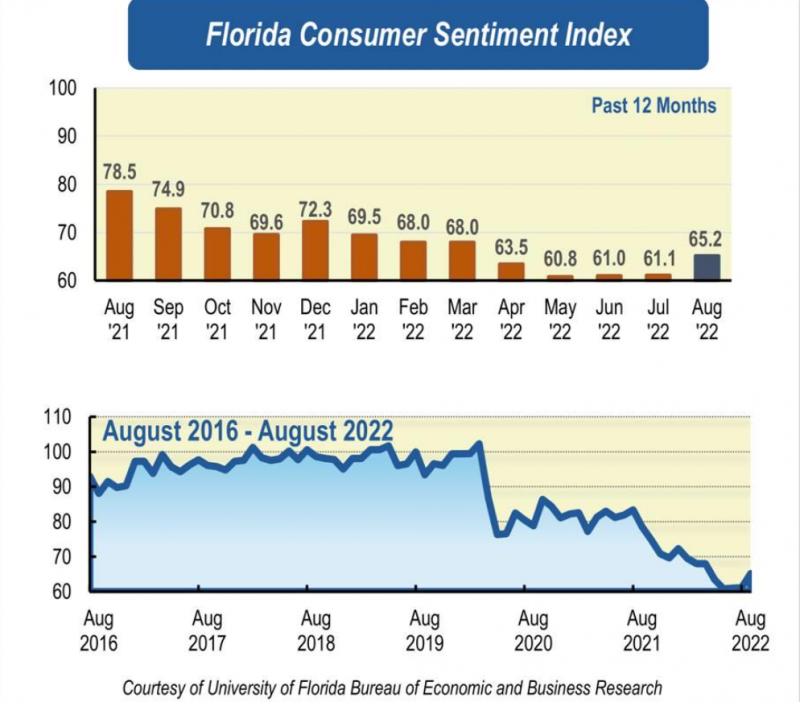 The index used by UF researchers is benchmarked to 1966, which means a value of 100 represents the same level of confidence for that year. The lowest index possible is a 2, the highest is 150.
© 2022 Florida Realtors®
Go to Source
Author: kerrys